Miramar Beach
Mara Lee Vacation Rentals - Destin, Florida
Destin
Welcome to the Destin, Florida area by Mara Lee Vacation Rentals. To help you pre-plan your vacation to Destin, Florida, we invite you to browse through our pictures and information.
White Sand
The sugar white sand is made of granulated quartz.
Emerald Green Water
The Gulf waters appear emerald green because light reflects off the photo synthetic algae that is suspended in the clear water.
Weather
So, how beautiful is the weather in Destin, Florida? You will find that Destin and Ft. Walton Beach enjoy a subtropical climate with mild southern breezes. Typically, this area has little cloudiness, low rainfall, and high temperatures.
The "Sunshine State" is an apt nickname because of the 300+ days the sun shines on Florida each year. There is plenty of opportunity for sunbathing with high temperatures in the summer from 80 to 91 degrees.
From Panama City west to Pensacola, there are excellent and dazzling white beaches. The gentle slope of the beaches along the Emerald Coast shoreline has made them a major recreational asset.
The winter highs range from 50 to 75 degrees. The mild winter weather is perfect for year round outdoor activities including walks along the beaches, nature sightseeing, golfing, fishing and shopping.
Rainfall averages between 50 and 60 days per year, so few days are without sunshine.
Month
High
Temp
Low
Temp
Rainfall
Water
Temp
January
61°
42°
4.0″
64°
February
63°
44°
4.3″
64°
March
68°
50°
6.0″
66°
April
76°
58°
4.5″
72°
May
83°
65°
3.4″
78°
June
89°
74°
5.2″
81°
July
89°
74°
7.2″
83°
August
90°
74°
7.1″
85°
September
87°
70°
6.8″
84°
October
80°
59°
3.2″
84°
November
69°
48°
3.4″
72°
December
63°
44°
5.0″
64°
Source: Okaloosa Tourist Development Council/National Weather Service
Ready to Book...Have Question?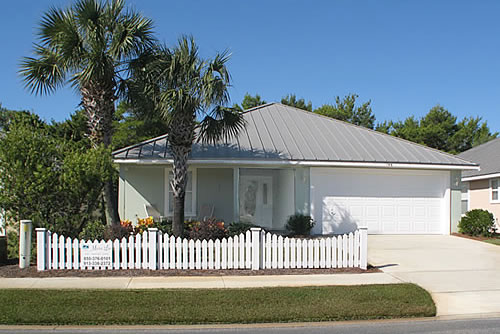 4 bedrooms, 2 baths, sleeps up to 8, double car garage / single size available to guests.
Learn More >>